Illegal Rhino Horn Trade: The Vietnamese Connection
Vietnam has been identified as one of the major recipients of rhino horn from South Africa.
The following is adapted from an article originally published on our blog Rhino Horn is Not Medicine on August 16th, 2010.
The demand for rhino horn in Vietnam has increased substantially over the past few years, and the country is currently considered a significant factor in the illegal rhino horn trade.
Most rhino horn entering Vietnam is sourced from South Africa. Rhino horn is obtained for consumption (quasi-) legally via trophy hunts, and illegally from rhino horn dealers operating in South Africa.
Not only is the demand for rhino horn as a curative widespread in urban areas of Vietnam, but rhino horn and special tools for grinding rhino horn are offered for sale in shops and online.
Preliminary research conducted by wildlife trade investigators suggests that political figures in Vietnam could be involved in the acquisition - and consumption - of rhino horn.
Rhino horn for sale in Vietnam
In addition to the traditional myths surrounding the healing properties of rhino horn, a relatively recent rumor that rhino horn is a cure for cancer is apparently being perpetuated by rhino horn dealers and traders. This unfortunate notion has allegedly been compounded by hospital staff who have supposedly offered rhino horn to terminally ill patients.
Rhino horn is sold in Vietnam through various retail outlets, such as traditional medicine stores. It is also fairly easy to locate rhino horn for sale online in Vietnam.
Some Vietnamese businesses sell special tools for preparing rhino horn, along with their regular wares.
It is disturbing to note that investigators reported in 2009 that rhinoceros skin and blood are offered as well.
Some accounts suggest that rhino horn is sold whole or in "cuts weighing between 90g to 500g". The horn is mixed with water after being ground into a powder and consumed as a liquid.
Imitation rhino horn
The demand for rhino horn is so great in Vietnam that certain outlets are said to be selling imitation rhino horn made from cows or buffalo.
On the Vietnamese market, some sources report that a "freshly cut" rhino horn commands a retail price of USD $25,000 - $40,000 per kg. Imitation horns supposedly fetch a substantial price of USD $15,000 per kg.
Contrary to popular belief, the manufacture and sale of "fake" rhinoceros horns does not flood the market and drive prices down. Instead, imitation horns keep the trade invigorated and the demand high.
Trophy hunts and Vietnamese 'clients'
One of the quasi-legal ways that rhino horn finds its way to Vietnamese markets is via trophy hunts in South Africa.
In 2003, CITES permits were issued for nine rhino trophies and two rhino horns to be exported to Vietnam, a country that had not previously been active in trophy hunting.
What followed was alarming: The number of rhino horn exports to Vietnam suddenly increased to 58 in 2006, 73 in 2007 - until a total of 268 rhino horns were reported for the period 2006 - 2009.
However, significant reporting discrepancies were found - suggesting that the figure of 268 rhino horns was actually under-reported.
Whilst this number seems high, Vietnamese nationals reportedly conducted 203 white rhino hunts in South Africa in 2005 - 2007, which would have yielded 406 rhino horns; South African exports, however, only account for 268 horns exported to Viet Nam during this same time period, suggesting that one-third of these hunts took place without the subsequent acquisition of CITES documents.
Additionally, investigations in South Africa found other issues involving links between Vietnamese nationals and trophy hunt operators.
The frequent involvement of a small number of Vietnamese nationals, often on the same game ranches repeatedly; numerous cases whereby Vietnamese "trophy hunters" paid above market price for rhino hunts, but then had to be instructed how to shoot and would completely forego any proper trophy preparation; the issuance of export permits for rhino trophies to Vietnamese nationals who had previously been identified in ongoing rhino crime investigations ...
In a 2010 rhino horn smuggling case, a Vietnamese court sentenced Tran Van Lap of Hanoi to three years in jail for attempting to transport five rhino horns from South Africa to Vietnam.
It is noteworthy that four of the horns were obtained by Lap via a "legal" trophy hunt - however, authorities suspected that the documentation had been falsified.
The trophy hunt scheme
An example of the trophy hunt scheme played out in the media during 2009. It began when Dwesa Nature Reserve auctioned off the right to kill six rhinos to the highest bidder – which happened to be African Scent Safaris.
Afterward, The Herald confirmed that Vietnamese clients of African Scent Safaris killed two rhinos and had the horns exported to Vietnam.
The horns of the two rhinos shot at Dwesa this month have been exported to Vietnam to the hunters who shot them, the outfitter involved in the controversial hunt said yesterday. Speaking from his base in Bloemfontein, Willem Botha, of African Scent Safaris, said his two Vietnamese clients could now do "anything" with the horns.
Botha did admit that he "had never before had clients from Vietnam" and further claimed he was unaware of a charge pending against one of his clients.
2003 - 2008: Rhino horn seizures and arrests in Vietnam
Several seizures of illegal rhino horn have been reported in Vietnam since 2003:
2003: At Lao Bao in Quang Tri province, a smuggler was caught with nine rhino horns and 180 packets of heroin
2007: A smuggler was arrested after arriving from South Africa with two rhino horns which he claims to have purchased for USD $10,000. Between 2005 and the time of his arrest, he had traveled between Vietnam and South Africa seven times.
2008: Five rhino horns were confiscated from a Hanoi man arriving at the Ho Chi Minh City international airport from South Africa. He was transporting the horns in his luggage and claimed that four were obtained from two rhinos he killed in a trophy hunt. He said he purchased the fifth horn for USD $2,000. (This individual was recently sentenced to three years in jail.)
2008: Upon arriving at the Ho Chi Minh City international airport from Hong Kong, a man was arrested with two rhino horns, which he claims to have purchased in South Africa.
2006 - 2009: Seizures and arrests in South Africa involving Vietnamese nationals
In the published report Under Siege: Rhinoceroses in South Africa, Animal Rights Africa notes that Vietnamese nationals have been implicated in a number of incidents related to illegal rhino horn trade and rhino poaching in South Africa:
2006: Two rhino horns were confiscated from a Vietnamese national, who received diplomatic immunity
2009: A Vietnamese man was arrested in Pretoria when he was found with the body parts of ten rhinos and lions
Vietnamese officials were also named in ARA's comprehensive report:
2008: Vu Moc Anh, an official at the Vietnamese Embassy in Pretoria, was caught by undercover cameras accepting rhino horn from a known trader
2008 and 2009: Members of the Vietnamese Embassy in South Africa involved in illegal rhino horn trade have been named by ARA as Moc Anh, the First Secretary; Pham Cong Dung and the Commercial Attache Khanh Toan
After being caught on film dealing in illegal rhino horn, embassy official Vu Moc Anh was repatriated and reprimanded, but there were no further reports indicating that she had been fined or sentenced in accordance with the law.
In addition to ARA's report, unpublished research conducted prior to 2010 into the illegal rhino trade in Vietnam suggests that political officials could be linked to the movement of rhino horn from South Africa to Vietnam.
Embassy staff are suspected of transporting rhino horn in diplomatic pouches.
2010: Stiff sentencing to 'send a message'
Amid the 2010 World Cup festivities, three Vietnamese rhino horn smugglers were arrested at OR Tambo International Airport for attempting to transport rhino horn from South Africa to Vietnam.
Two of the men were caught just 30 minutes before the World Cup opening ceremony. The third, a foreign student on his way to Vietnam, had been arrested just a few days prior.
Shortly thereafter, a Vietnamese man, Xuan Hoang, was sentenced to 10 years in jail by the Kempton Park Magistrate's Court for attempting to smuggle rhino horns from South Africa to Vietnam. The horns were found to be a DNA match to rhinos that had been killed just a few days earlier.
The Court said the stiff sentence was intended to "send a message" to Vietnam.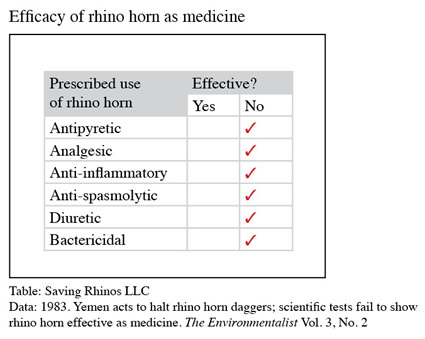 A multimillion dollar trade based on a myth
The illegal trade in rhino horn is a multimillion dollar business based on nothing more than a myth.
Rhino horn has been extensively analyzed and it actually contains no medical properties. The effect of consuming rhino horn has been compared to chewing one's own fingernails.
Despite the scientific evidence that rhino horn has no medicinal value, the greatest threat to rhinos today is the use of rhino horn in traditional medicines in China and Vietnam. Rhino horn has historically been prescribed for a wide range of ailments, including fever, anxiety, boils – and even "devil possession".
Rhinos are up against decades of cultural beliefs about animal parts - superstitions that no longer have a place in today's world. If there is any hope of protecting rhinos from the brutal business of the illegal rhino horn trade, then we must confront and expose these myths about rhino horn - before it's too late.
---
Originally published on our blog Rhino Horn is Not Medicine on August 16th, 2010.
Sources:
Milliken, T., Emslie, R.H., Talukdar, B. (2009). African and Asian Rhinoceroses - Status, Conservation and Trade. CoP15. CITES Secretariat, Geneva, Switzerland.
Animal Rights Africa (2009). Under Siege: Rhinoceroses in South Africa. Animal Rights Africa Special Report, South Africa.